What makes a good e-moderator? What skills and qualities does the online tutor need? I asked our team of very experienced e-moderators what they thought the most important online skills and qualities were, and below are some of their responses.
In the spirit of a new year beginning, I invite you to take a look at the Top Ten Moderator Skills below, and select those that you would like to develop in your own online teaching during 2010. A sort of online tutor's New Year's resolutions – you could print out the mind map below, circle those you'd like to work on, and pin it above your desk! Very low tech, I know, but some of us still love to use bits of paper…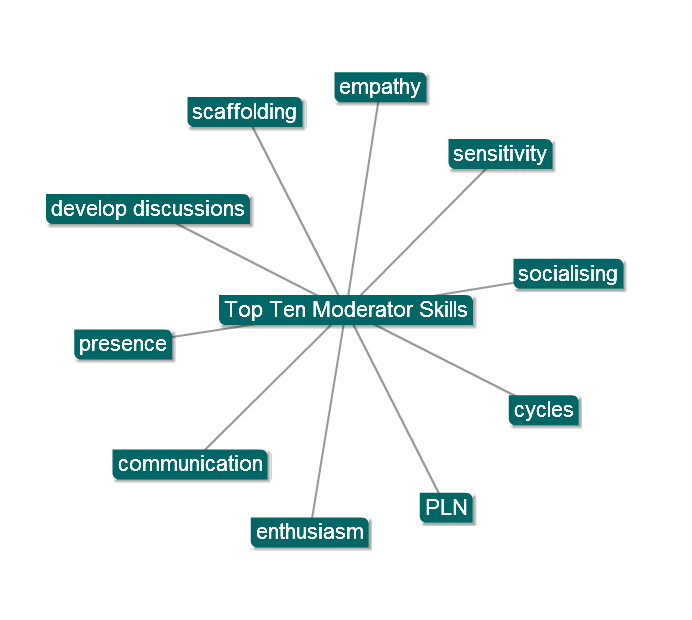 [Made with Text2Mindmap]
Top Ten Moderator Skills
[These first two 'skills' are my two personal e-moderator resolutions for 2010, and are areas that I would specifically like to work on during this coming year]
1 PLN:
Develop an effective online PLN (personal learning network) that works for you. It is important for tutors not to get so bogged down in the day to day tasks of the job that they neglect their own longer-term professional development.
How? If you don't already use Twitter, try it out (see this user guide to get started). Subscribe and keep up to date with blogs written by professionals in your area of teaching  – there's a good blogroll for ESL/ELT on Lindsay Clandfield's blog.
2 Enthusiasm:
No one learns anything from uninterested or unmotivated teachers, whether f2f or online. An inspired teacher produces inspired learners.
How? To maintain enthusiasm for your online work ensure that you have enough time to devote to your online students, and that there is enough variety in your work to keep you engaged. And of course, experiment and learn through your own teaching.
[These next two skills are from Valentina Dodge, based in Italy:]
3 Communication:
Online this involves completely new skills, ie. "reading" between the lines.
How? Show you are really listening to your online students by picking up on points made earlier (perhaps weeks earlier) as well as choosing written words carefully to engage in true dialogue and create a comfortable learning environment.
4 Presence:
This is about being there but not dominating the online environment. It's often more about the exchanges and the doing than you transferring your knowledge.
How? It's not just a question of being present (e.g. via forum responses or Skype office hours) with answers or positive feedback but involves the skill of knowing when to step in to direct as well as stepping back to allow greater peer-interaction without disappearing.
[Andrei Tarassov in Colombia says:]
5 Develop discussions:
Good tutors have the ability to explore ideas and develop arguments, promoting valuable threads.
How? Read and write carefully, and ask good questions. This can help to make forum discussions more engaging. There is room in any online course for simple forum posts, but it's much more engaging to read and post in a thread which is a real discussion.
6 Scaffolding:
It's important to know when to intervene and when to hold back, providing enough support, but not eliminating challenge.
How? Experience, and trial and error are probably the only ways to learn this one. How much scaffolding to provide your learners will of course depend on the online group too, as well as the subject matter – e.g. how much the group already knows about it.
[Carl Dowse in Germany highlights these two key tutor qualities:]

7 Empathy:
This allows the trainer to view the elearning process from the perspective of the participant when developing and moderating activities.
How? There is nothing as effective as doing an online course yourself to experience what it's like to be an online student! It doesn't have to be in the same subject area that you teach online, but could be in any area that interests you – the main point is to be on the receiving end of online teaching. It can be a real eye opener in terms of seeing what works and doesn't online.
8 Sensitivity:
This enables the moderator to respond to and make the most of different learning styles and cultural differences.
How? Do a little research on the learning cultures and learning styles of your online students, either before or at the start of the course. Getting your online students to complete an open ended questionnaire about their expectations of online learning and your course, and about what works and doesn't work for them in terms of learning activities, can also provide valuable insights. You could revisit this periodically e.g. in midcourse feedback.
[Finally, Kristina Smith in Turkey adds:]
9 Socialising:
We all know that fully online courses can lack the essential social element that face-to-face classes provide. An initial socialising stage with specifically social tasks in an online course is important, but after that, what can we do to ensure that groups gel and continue to work well together?
How? Keep feeding the social aspects of the course through cafe postings or sharing photos. Not too much, not too little. Friendly Monday a.m. posts seem appreciated. Regular synchronous video sessions also help of course, and meeting up in 3D virtual worlds such as Second Life can greatly enhance the sense of social presence on an online course.
10 Cycles:
A course has its own life cycle, with a beginning, middle and end. Be very aware of each of these stages within your course, and consciously cater to each of them.
How? At the beginning of the course, create a warm atmosphere, and then continue to encourage and scaffold so participants learn as much as they can. At the end of your course let participants feel a sense of achievement and also experience 'closure'. Loads of participants write to me at the end of a course saying they feel a bit bereft when they check their mails and there are no more emails from the others and there are no more forum discussions to join.
[Note: In my next blog post I will look at specific online activities/tasks that cater to the main stages in a course cycle]
So, above we have a list of just 10 key tutors skills and qualities – of course there are many, many more! In fact the more you tutor online, the more skills you realise you need, in my experience! What about you? What are the key e-moderator or online tutors skills for you? 
Nicky Hockly
The Consultants-E
January 2010