[or: What's an Unconference?]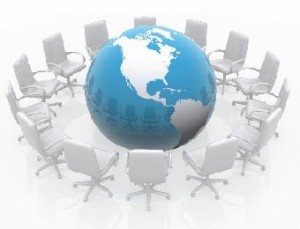 No plenary speakers. No opening speech. No PowerPoint lectures. No panel discussions. No publisher exhibition. Sound like a conference?
Hopefully not- it's an Unconference!
An unconference is a f2f event which is participant driven, and I had my first taste of one as a facilitator in Moscow last week.  And what an experience it was! Rebooting the Conference was sponsored by the British Council Moscow, and focused on learning technologies and English language teaching. Highlights of the unconference included:
an initial Pecha Kucha style presentation by pairs of facilitators describing to participants what their sessions would consist of
an Unparty in which participants brought along their own music and/or musical instruments
daily 3 hour sessions, with a topic set by facilitators, during which themes and areas for discussion and exploration were raised by the participants themselves
participants produced summaries/posters/PowerPoints of things they thought worth highlighting from each session
a team of 3 text bloggers and 1 video blogger captured the event in real time
open slots of 20 minutes each on day 2 enabled unconference participants to run a session on any topic they fancied. An excellent range of short sessions was run by participants on topics from IWBs to social bookmarking
a live videoconferencing event co-ordinated by the IATEFL Learning Technologies Special Interest Group, with contributors from 5 different countries, beamed into the unconference venue. Watch the recording.
an undebate about copyright in a groovy bar, with participants discussing issues over beers and then sharing their opinions with everyone
a final round up activity in which participants shared their impressions and learning points from the unconference
Feedback from participants confirmed that the Unconference format, although new to almost everybody there (including the facilitators!), can be a very stimulating one. Participants cited the chance to bring out their own experiences, and share these, as deeply rewarding. They appreciated the chance to contribute as equals alongside supposed experts on the topics – the Unconference format operates on the premise that there are no experts, and that everybody has something of value to contribute.
So, if you're thinking about setting up an Unconference, you could do worse
than use some of the ideas and format above! Best of all, there are plenty of digital assets you can check out from our unconference – the best place to start are the conference bloggers' pages:
Many of the blog posts have resources, PowerPoints, and posters produced by participants. Enjoy!
A huge thank you to Olga Barnashova and the British Council team for superb organization; to my colleague Gavin Dudeney for his great work on the Unconference session ideas; to my co-facilitators for being such a pleasure to work with; to the bloggers for their excellent reporting; and to Moscow for the great food and vodka.
Nicky Hockly
The Consultants-E
September 2010