[Or: Two ways to integrate social networking into mLearning]
What social networking sites do you use? Facebook? Twitter? Linked in? You Tube?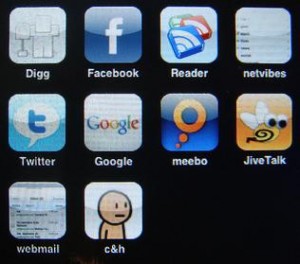 If you are reading this blog, chances are that you use at least one or more of these sites on a regular basis. And what about where you access these sites from? Your work or home computer, or your mobile device? Or both?
Social networking sites such as Facebook and Twitter have seen massive growth in the last year or two. No doubt you've already heard that ''if Facebook were a country, it would be the third most populous country in the world''.  Part of this massive increase has been driven by the rise in the use of mobile devices and smartphones. It's now quicker and easier than ever before to access these sites. And this is true in both the developed and developing world. (See this article from the Guardian Weekly about the increase in Facebook access in several countries in Africa, for example).
I recently came across this infographic about mobile phones and social networking sites. It shows how people use social networking sites on their mobile: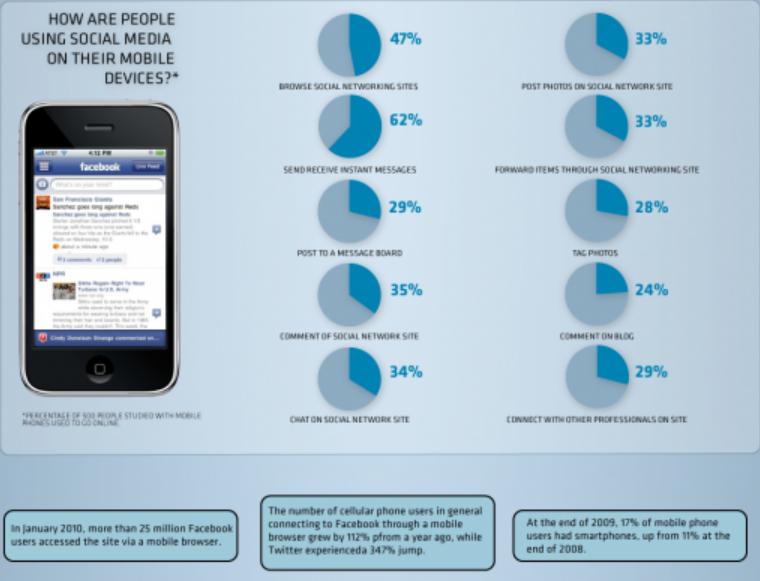 See the full infographic here. Note the range of things a user can do (post and tag photos, instant messaging, post to a message board, comment on a blog etc).
A second infographic that got my attention is one that shows what apps people are using on smartphones. What do you think are the most popular apps on the iPhone, Blackberry and Android? Facebook is in the number 1 spot for all three.
So, more people than ever before are using mobile devices such as smartphones to access social networking sites. And the numbers are rising. What does this mean for educators? Well, clearly that we can tap into and exploit this trend to support learning. How?
1 Integration
Use of social networking  is integrated into the app or learning program. An example is the new British Council radio-style podcast Learn English: this includes a Facebook page for the podcast presenters, where learners can post comments and questions. This app is thoroughly reviewed by David Read here.
2 Addition
Use of social networking sites or tools are external to the app itself, but learners use these networks to support the learning programme. An example is the K-Nect mobile project: US high school kids used specially created apps for learning algebra and maths, but insisted on being allowed to set up blogs and to use instant messenging through which to communicate outside of the program itself. Teachers were initially skeptical, but the social networking part of the project proved immensely successful. I've blogged about this project here.
I'd love to hear about other examples of mLearning projects that are using social networking to support  learning … Please feel free to post any examples below and share your project!
Read more
An excellent summary of the recent mLearnCon2010 (mLearning Conference) from Learning Solutions magazine. Links to a number of blogs at the end are worth checking out as well.
A good place to look for infographics is Visualoop.
Related posts:
Nicky Hockly
The Consultants-E