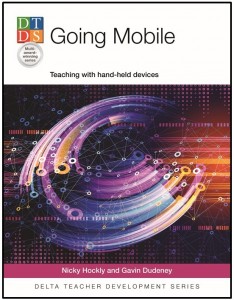 To celebrate the recent publication of our new book Going Mobile (co-authored with Gavin Dudeney), we're sharing a number of activities you can try out with your students, to get them using mobile devices as part of the their language learning. Last week's activity (Addicted!) required no devices at all in class. This activity encourages students to start using the 'text' function of their mobile phones with Twitter.
I got the idea for this activity from an intermediate student I was teaching as part of an action research BYOD project (more on that here). The students only seemed to use translations apps on their phones as a regular part of their language learning (I asked and they all claimed to use nothing else). But after class one day, one of my students (aged 25) proudly showed me a tweet from David Guetta  (a famous DJ), whose tweets he avidly followed. Clearly this student didn't think that following a person who tweeted in English (and French) had anything to do with 'learning English'. This activity comes from that moment with my student… [click on the images below to make them bigger]
If you decide to try this activity with your students, I'd love to hear their reactions (let me know in the Comments box below)!
Nicky Hockly
The Consultants-E
January 2015