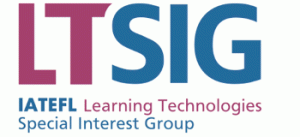 It's a new year, and we have a new series of free webinars starting on 20 January.
At The IATEFL Learning Technologies SIG we are kicking off our 2013 webinars with a debate on interactive whiteboards, or IWBs (see below). Pete Sharma will be defending IWBs, and Gavin Dudeney opposing.  Pete is author of '400 Activities for IWBs', while Gavin is author of articles about IWBs with titles like 'Interactive, Quite Bored', so the fur is sure to fly! This will be structured debate, with plenty of time for the audience to also voice and share your opinions on IWBs.
We also have a line up of speakers talking about a range of projects using technologies with their English language learners, every month. The webinars are free and open to everyone – you don't need to be a member of the SIG to attend.
Check out the links below for specific information about each of the webinars, including links to the exact time in your country, talk descriptions and speaker bios. And don't miss The Great ICT Debate on IWBs, on the 20th of this month!
IATEFL Learning Technologies SIG webinars January – June 2013:
The Great ICT Debate
IWBs: a fantastic teaching tool or non-interactive white elephant?
with Pete Sharma and Gavin Dudeney
Sunday 20 January at 15h GMT/UCT
So – mark these dates in your calendar, and look forward to seeing you there! Please also feel free to leave any comments with suggested topics or ideas for future Learning Technologies SIG webinars, in the Comments section below.
Nicky Hockly
(IATEFL LT SIG Online Events Co-ordinator)
January 2013