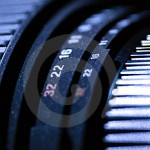 Video has been around for ages. We've been using it at home and in our classrooms for decades. There is plenty of research suggesting that learning in all fields is enhanced by the judicious use of video. That said, how about reviewing your own use of video in the online course(s) you teach?
How often do you use video in your online course? What do you use it for? Here are some suggestions (none of them especially revolutionary, but you could use them as a checklist…):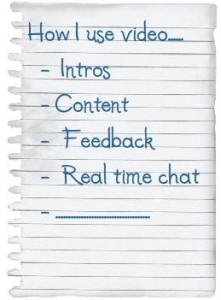 1 Introductions and hellos
Create your own introductory video for your course, and for each module of the course, to greet your participants, outline aims and so on. Don't worry if your hair is not perfect the day you record – your course participants are far more interested in seeing you and hearing your voice. Where to film? You could film your intros in a study lined with books (the erudite look) or on your terrace (like I do — you get the windswept look), or in any place of some significance to you, such as your local park, beach etc (the casual look).
Get your course participants to create their own short introductory videos using their webcams or digital video cameras. Some participants may not be keen to use video. Fine, set up exactly the same activity with audio, using a free audio voice board such as Voxopop.
2 Content
Provide links to video content already on the web in your field as a way of making sure you use a variety of input media (video, audio, slideshows, articles, blog posts etc, not just online articles).
Get your course participants to create movies with photos or short video clips and voice over, summarising content. Sound tricky? Use staightforward programs like Windows Moviemaker or iMovie, which come already installed on your PC or Mac.
3 Feedback
Make screen capture movies to give detailed feedback on your participants' individual written work – Russell Stannard writes about this on his website.
Create short video tutorials explaining to participants how to use certain tools, or how to use your VLE itself. Or how to plan a project, or carry out a task. Use free screen capturing software like Camstudio or Jing (see links above).
Provide general feedback and comments in a forum discussion in video (or audio) format, instead of via typed text.
4 Real time chats with video conferencing
Hold regular videoconferencing sessions with your participants in real time. This can help your learners feel more connected. Even if your participants are not keen to appear on camera, you should (remove that bit of breakfast egg from your chin before you go into the video conferencing room).
If you start shared browsing, or looking at PowerPoint slides or the whiteboard during your video conference, then you might want to turn off your video so that it is not distracting. But during general chitchat and if there is nothing specific for participants to do or look at in the room, it's a good idea to be seen as well as heard.
5 And a few basic tech tips:
If you film yourself make sure you have a good bright light shining on your face. If you are backlit, you just look sinister.
If you or your participants use mobile phones to create video, you will need to convert the video files from mobile phone format (3PG) to a video format that can be watched in a media player, such as .avi, or .mp4. Use the free (and totally fabulous) online conversion site Zamzar.
If in a video conferencing session your participants are having problems with hearing or using the audio, get them to do these two very basic checks in this order:
a) They check they have their mic or headset cables plugged in to the right places, and that cables are fully plugged in!
b) They check their speakers or mic are not on mute!
These are the two most basic and most common problems we come          across in video conferencing more often than you would believe…
What about you? How do you use video in your online courses? What tips and suggestions do you have to use it effectively? We've already had a few suggestions on my past blog posts with helpful comments by Scott Thornbury and by Jason Renshaw about using video — please feel free to add your comments to this post!