2012 is drawing to a close, and 2013 lies ahead of us. Time to take a look at some of the educational trends that have emerged over the last 12 months, and that are likely to dominate the educational technology scene in the coming year. Here are five trends that I think will still be getting plenty of airtime in 2013.
Trend 1: The flipped classroom
Although the notion of the flipped classroom has been around for more than 12 months, 2012 has seen it at the apex of Gartner's hype cycle  – namely at the 'peak of inflated expectations'.  One could argue that EFL teachers have been flipping the classroom for years  (language exercises for homework, and language practice in the classroom), and it's all simply a matter of common sense and good teaching. But we expect the hype to continue into 2013. (If you need to get up to speed on exactly what the flipped classroom is, check out Ana d'Almeida's excellent article on the topic, from April 2012).
Trend 2: MOOCs
Massive open online courses (MOOCs) have also been around for a number of years, but with the likes of MIT, Stanford and Yale offering MOOCs, they appeared in the mainstream media in 2012. (For a quick refresher on MOOCs, read my 1-minute guide to MOOCs blog post). In the field of English language teaching, MOOCs have been around for a while as well, providing teachers with excellent free opportunities for online professional development. Two sources of MOOCs that I particularly recommend for 2013:
The Electronic Village Online MOOCs start in January 2013
SEETA (South Eastern Europe Teachers Associations) regularly offers MOOCs for language teachers – keep an eye on their website for their free 'online courses' in 2013.
Trend 3: Mobile & BYOD
A quick look at any of the statistics showing mobile penetration in developed and developing countries confirms significant growth. Here's part of an infographic showing mobile phone ownership around the world in 2011: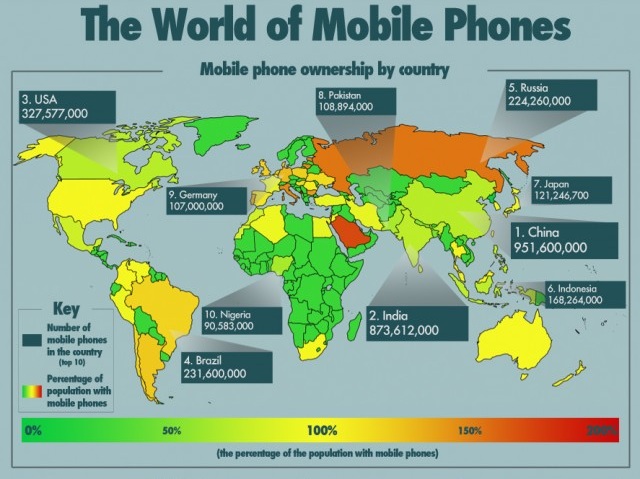 [Click on the image or here to see the original infographic]
 And education is well placed to harness this potential as the debate around issues such as BYOD (bring your own device) shows. Assuming of course that schools unban the use of mobile devices in the classroom. Meanwhile, entire school districts have been trialling BYOD, and early adopters in our own field of English language teaching have been experimenting with netbooks, tablets and mobile phones with their classes. Watch videos of EFL teachers talking about their mobile learning projects, their successes and challenges, and their advice to other teachers planning to do the same. We hope mobile will be making more of an appearance in ELT classrooms in 2013 -and indeed my colleague Gavin Dudeney and I are writing a book for teachers on mobile learning (due out in 2014) that we hope will help this process along!
Trend 4: Augmented reality
Augmented reality has moved from the realm of sci-fi movies into our own mobile devices. 2012 has seen the advent of augmented reality apps that allow users to easily – and freely – create their own augmented reality layers. Although some apps (such as String) require markers to be printed out, apps such as Junaio allow you to create your own augmented reality info. With the development of the Google's Project Glass, wearable augmented reality is becoming an increasingly probable part of our future wardrobes as well. Check out the Project Glass video for how that's going to look!
Trend 5: Digital literacies
Digital literacies, new media skills, digital competences … Whatever you choose to call them, they are now in mainstream schooling curricula around the world. Part of the core competences that make up so-called 21st-century skills, digital literacies are being discussed within English language teaching as well, and teachers are asking themselves exactly how to bring them into the classroom.  'Digital Literacies', the book that Gavin Dudeney, Mark Pegrum and myself have written, is due out in the next few months…. So digital literacies is  going to be on the ELT educational landscape for 2013, we hope! And if you need a quick refresher on what digital literacies are, here's my attempt to summarise them in a 3-minute video.
What other edtech trends do you think will continue into 2013? I'd love to hear your take on this, in the Comments below 🙂
Nicky Hockly
The Consultants-E
December 2012